Neeraj, a Merchant Navy Officer with a passion for travel, was born in Chittorgarh. He has traveled around the globe to cater needs of the profession. It was the month of September 2016, when he finished work in Turkey and was flying back home. After 6 months of work, he was looking forward to buying a Royal Enfield motorcycle. After exploring the sea for over a decade, the man decided to explore his passion and go on a road trip. He was going to make a trip from Chittorgarh to Indore, and from there to Shirdi, covering some of the famous tourist sites like Mumbai, Pune, and Dhule on the way back.
It was indeed a perfect road trip made for a bike lover. He made new friends, talked with strangers, clicked amazing pictures on the way, and then returned to his hometown with a phone full of memories and a mind full of ideas. Soon after returning from the trip and putting a video on YouTube about his experiences, the video went viral and people started reaching him with numerous offers.
He has an avid interest in riding motorcycles and has always dreamt about creating his own business related to the same. With his deep knowledge of the industry and the brand, he plans to create a viable platform that will serve as a one-stop shop for enthusiasts. He decided to launch a platform to offer genuine products at affordable prices while delivering them at customers' doorsteps through its courier. Our founder, Neeraj, wanted to create a variety of quality motorcycle accessories that surpasses market standards and provides the perfect personalized addition to any bike.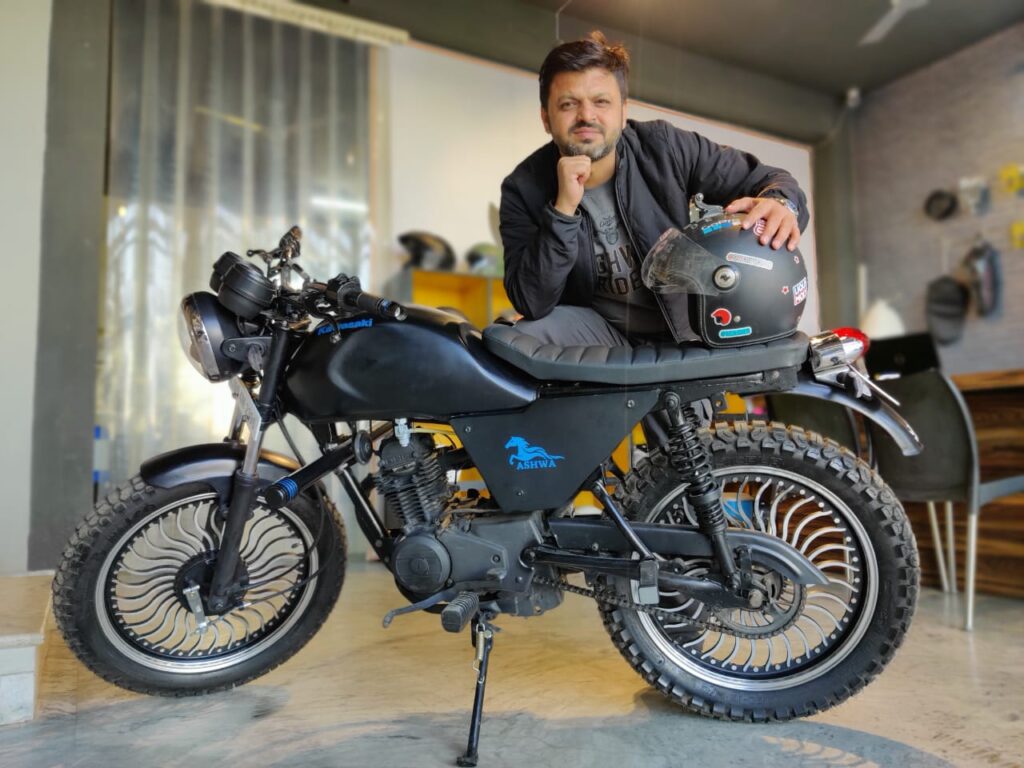 It promises to meet all your individual customizing needs with genuine leather accessories and accessories meant for your bike. There are many modification companies for Royal Enfield bikes. These modifications are standard as per customer requirements. People have the facility of customizing their bikes according to their wishes. But the Bikerz is the one-stop solution for all your bike questions. We are in business since 2019 and work on custom modifications, performance tuning, engine building from mild to extreme, customization, paint works, and many more.
We stay connected with all of our customers through YouTube and Instagram. We have a Biker community where we showcase our motorcycles as well as do product reviews for your motorcycles. As a contributor to this community, we hope that our content allows you to make informed decisions for your next purchase. The Bikerz is offering many modifications for all types of bikes. They also have a huge fan following. We are a bunch of professionals, who have been united in a noble cause of modifying motorcycles. Based in India, we are a renowned name among the top-notch bike modification companies. Having vast expertise in this area, we have come up with some unique and thrilling ways to modify the bikes. Be it custom parts, aftermarket parts, accessories, or anything else under the sun; we offer them all at our esteemed clients' reach.
The biking marketplace is increasing these days; this is another reason why refinements need to be made available to the riders. But there are fewer companies in the east region. Many individuals in the North East are wondering how they can modify their bike or motorcycle to fit local riding conditions. At the Bikerz, we've designed our bolt-on kits for easy installation and packaged with everything you need to install one of our products. Our kits come with a step-by-step guide to help you install it. Quality bolt-on kits are manufactured at a great factory to meet standards. We deliver our bolt-on kits all around the world.